Introduction
Who doesn't love a beach bonfire? The sound of the waves crashing against the shore, the warmth of the fire, and the company of good friends all make for an unforgettable experience.
However, to fully enjoy a beach bonfire, you need to have the right gear. It's not just about bringing marshmallows and graham crackers for s'mores.
You also need to think about staying warm, comfortable seating, proper lighting, and more. Without these essentials, your evening could be cut short due to discomfort or lack of preparedness.
Not only does having the right gear enhance your beach bonfire experience, but it also allows you to stay longer and make memories that will last a lifetime. So before you plan your next beach bonfire excursion with friends or family, make sure you're well-equipped with these top 10 essentials!
Blankets and Throws: Wrapping Yourself in Warmth
Beach bonfires are magical, but as the night gets colder, you'll want to make sure you have something warm and cozy to snuggle up in. Blankets and throws are a must-have for any beach bonfire enthusiast. Not only does it keep you warm, but it also adds a touch of style to your beach set-up.
When choosing a blanket or throw, make sure it's made of soft and comfortable material. You don't want anything too scratchy that could ruin your night.
Fleece blankets are always a great option as they're soft and lightweight but still provide ample warmth. If you're looking for something more stylish, opt for blankets or throws with fun designs that fit your personality or match your beach aesthetic.
Think bold colors, stripes, or even tropical prints. Another important factor to consider when choosing a blanket is its size.
You'll want one large enough for you and your friends or family members to comfortably share but not too big that it becomes cumbersome to carry around. Overall, blankets and throws are essential beach bonfire gear that will keep you warm while also adding some personality to your set-up.
Cozy Throw Recommendation: Pendleton Eco-Wise Wool Fringed Throw Blanket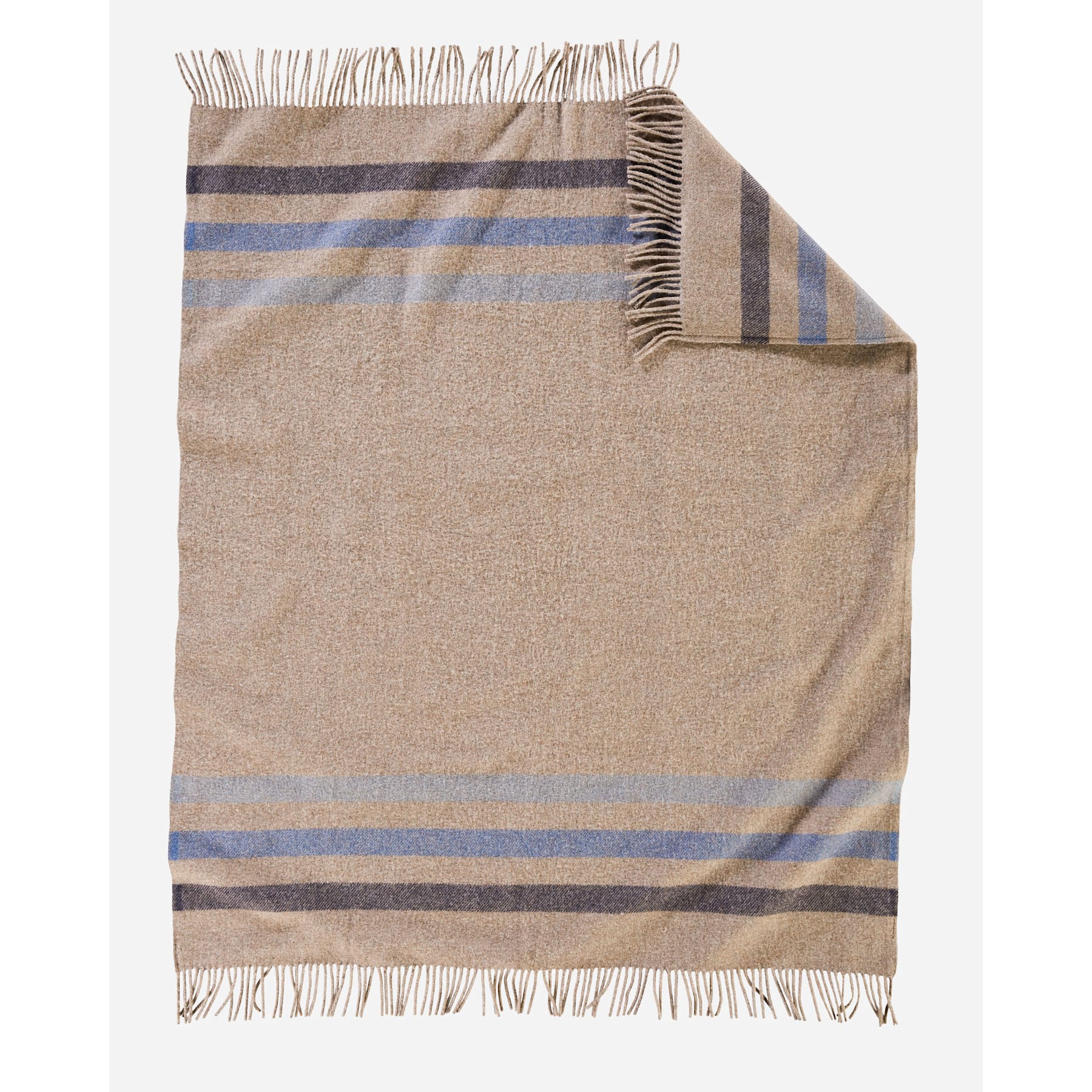 If you're willing to invest in a cozy throw blanket that will last for years of beach bonfires (and beyond), the Pendleton Eco-Wise Wool Fringed Throw Blanket is worth considering. Made from 100% pure virgin wool sourced from US ranchers, this eco-friendly blanket is both soft and durable.
Plus, its fringed edges add an extra touch of style. It comes in various colors such as blue plaid perfect for the coastal vibes at the beach.
Budget-Friendly Blanket Suggestion: AmazonBasics Soft Micromink Sherpa Throw Blanket
If you're looking for a more budget-friendly option, the AmazonBasics Soft Micromink Sherpa Throw Blanket is a great choice. It's made of super soft microfiber and has a cozy sherpa lining that will keep you warm all night long. Plus, it comes in various colors such as grey or navy perfect to match with any beach bonfire outfit or aesthetics.
Comfortable Seating
The Benefits of Comfortable Seating for a Long Night Around a Bonfire
One of the most important things to consider when planning for a beach bonfire is ensuring that you have comfortable seating. Spending hours on the ground or in uncomfortable chairs can lead to sore backs and necks, which can make it difficult to fully enjoy the experience. With the right seating options, you'll be able to stay relaxed and comfortable all night long.
Not only will comfortable seating help you physically, but it can also enhance the social aspect of your bonfire experience. When everyone is comfortably seated around the fire, it's easier to create an intimate and relaxed atmosphere that encourages conversation.
Suggestions for Portable Chairs or Cushions that are Easy to Transport to the Beach
When it comes to choosing seating options for your beach bonfire, there are several factors you'll want to consider. First and foremost, you'll need something that's lightweight and easy to transport. Look for chairs or cushions that can fold up compactly so that they're easy to carry down to the beach.
Another thing you'll want to consider is whether your seating options are waterproof or water-resistant. After all, no one wants their seat getting soaked by waves crashing onto shore!
Look for materials like mesh or nylon that dry quickly and won't absorb moisture. If portability is your top priority, then consider investing in camping chairs with built-in cup holders and pockets - perfect for holding snacks and drinks while enjoying your cozy seat by the fire!
If you prefer something softer than a chair, try bringing along some portable cushions or even bean bag chairs - just make sure they're filled with water-resistant material like polystyrene beads. With these suggestions in mind, you'll be well on your way toward creating a cozy beach bonfire experience that's as comfortable as it is atmospheric.
Warm Clothing
The Importance of Dressing in Layers for a Beach Bonfire
When it comes to staying warm during a beach bonfire, dressing in layers is essential. Not only does it allow you to adjust your clothing as the temperature changes throughout the night, but it also helps to trap heat close to your body and keep you cozy.
The last thing you want is to be shivering on the beach while all of your friends are having a great time around the fire. Start with a base layer that will wick away sweat and moisture from your skin.
This could be something like an athletic shirt or long underwear. Next, add a middle layer that will insulate and retain heat such as a fleece or sweater from Ocean Works that will keep you warm and cozy.
Top it off with an outer layer that will protect against wind and water such as a jacket or parka. By dressing in layers, you can easily adjust your clothing for maximum comfort throughout the night.
Suggestions for Warm Clothing Items such as Hoodies, Jackets, and Scarves
Now that we understand the importance of dressing in layers for a beach bonfire let's discuss some warm clothing items that are both functional and stylish. A comfortable hoodie is always a great choice when it comes to staying cozy around a bonfire. Look for one made with warm materials like fleece or cotton that has ample pockets for storing snacks or other essentials.
A jacket is another essential item when it comes to beach bonfires. Look for one made with wind-resistant material so you can stay comfortable even on breezy nights by the water.
Consider bringing along a scarf to protect your neck from chilly winds blowing off of the ocean. It's also highly recommended if someone wants to take an impromptu dip into the cool water!
Remember: while staying warm is important during any outdoor activity at night - looking good never hurt anyone. Look for pieces that make you feel comfortable and confident while enjoying the waves crashing on the shore and the fire crackling nearby.
Footwear: Keeping Your Feet Comfortable and Safe
Beach bonfires can be a lot of fun, but walking on sand in the dark can be dangerous if you're not wearing the right footwear. Sand dunes, rocks, and debris can easily trip you up or injure your feet.
That's why it's important to wear appropriate footwear that will keep your feet comfortable and safe. First and foremost, you should look for shoes or boots that are comfortable and offer good support.
Walking on sand can be tiring, especially if you're carrying chairs or other gear with you. So make sure your shoes are comfortable enough to wear for long periods of time.
In terms of style, there are many options to choose from. Sneakers or running shoes are a popular choice because they offer good support and are comfortable to walk in.
However, they may not provide enough protection against sharp rocks or shells. Hiking boots or sturdy sandals that cover your toes might be a better option if you plan on walking along the beach or exploring nearby trails.
Practical and Stylish Footwear Choices
When it comes to choosing footwear for a beach bonfire, practicality is key – but that doesn't mean sacrificing style! Here are some options that marry fashion with function: - Flip flops: They're easy to slip on and off, lightweight, and great for walking around in sandy environments.
- Water shoes: These shoes were designed specifically for water activities like kayaking or rafting because they're quick-drying – making them perfect for when the tide comes in. - Boots: If it's chilly outside (or just after sunset), consider wearing boots with thick socks.
Not only will this keep your feet warm when temperatures drop at nightfall but also protect them from sharp objects hidden beneath the sand. Whatever footwear you choose make sure it fits well so you won't have to worry about blisters or discomfort – and so you can focus on having an amazing time around the fire with friends and family.
Snacks: The Ultimate Fuel for Bonfire Nights
When it comes to beach bonfires, snacking is a crucial part of the experience. After all, you need something to keep you fueled and energized throughout the night. Whether you prefer sweet or savory snacks, there are plenty of options that are easy to pack and delicious to munch on.
One classic snack that is a must-have at any beach bonfire is s'mores ingredients. There's just something about the combination of graham crackers, chocolate, and marshmallows that screams "summer." To make things even easier, you can buy pre-made s'mores kits that include all the ingredients you need.
Just don't forget to bring some roasting sticks! If s'mores aren't your thing (gasp!), there are plenty of other easy-to-pack snacks that will keep your hunger at bay.
Popcorn is always a crowd-pleaser and can be flavored in a variety of ways - from classic butter and salt to spicy or sweet varieties. And for those who want something a little more substantial, trail mix is an excellent option.
You can make your own trail mix by combining nuts, seeds, dried fruits, and even chocolate chips. No matter what snacks you choose to bring along for your beach bonfire adventure, make sure they're easy to pack and won't spoil in the heat.
And don't forget to share with your friends! Bonfires are all about community and bonding over shared experiences (and delicious treats).
A Note on Snack Safety
While snacking around a bonfire may sound idyllic, it's important to remember basic food safety guidelines when preparing or bringing any type of food item. Be sure to wash your hands before handling food or utensils and store perishable items properly in insulated containers until ready for consumption.
Additionally, be sure not leave food out in the open for extended periods of time, especially in warm weather. Keep your snacks safe and your stomach happy!
Lighting: Enhancing the Bonfire Ambience
The right lighting can make all the difference in creating a cozy and inviting atmosphere at a beach bonfire. While the fire itself provides some illumination, it's always helpful to have additional lighting options.
One easy option is to bring along some outdoor string lights or fairy lights, which can be hung up around the bonfire area to provide a warm glow. Another great lighting option is lanterns, which come in various sizes and styles and are perfect for adding a touch of ambiance while also providing practical illumination.
Many lanterns are battery-operated or solar-powered, making them easy to use without requiring access to an electrical outlet. They also come in different shapes and sizes, so you can choose what works best for your needs.
If you're feeling particularly creative, consider making your own DIY lanterns using mason jars or other repurposed materials. These personalized lanterns can add a unique touch to your beach bonfire setup and also make great conversation starters!
Conclusion: Enjoying Your Cozy Beach Bonfire Setup
With these top 10 beach bonfire essentials in mind – blankets and throws, comfortable seating, warm clothing, appropriate footwear, snacks, portable speakers, lighting options – you'll be fully equipped for an enjoyable evening outdoors! Remember to always check local regulations before starting any fires on the beach.
By creating a cozy and inviting atmosphere with these essentials while enjoying the natural beauty of the beach at night with friends or loved ones around a roaring fire; you'll create memories that will last forever! So gather your essentials now and start planning your next night out on the sand!